August 26 – Rockin' Out & Wine Tasting with Lauren Chaira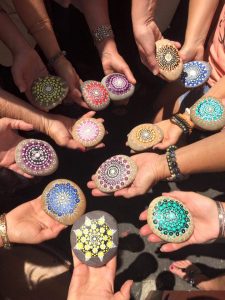 Local artist, Lauren Chiara will teach you to paint a simple shaded mandala (pictured) on a ~5″ stone.
*Optional at 10:30 a.m. walk the vineyard to find your perfect rock. The Hatfield Creek Vineyards grow on land that is not only beautiful but sprinkled with smooth river stones that have been touched by history eons ago, & were used by ancient peoples to craft tools.
*Class will begin at 11:00 a.m. and all materials will be provided, including stones if you choose not to arrive early.
$40 per person. Limit 12 people. First glass of wine included.
Pay in advance to confirm a space in the class.
Payments can be made at Hatfield Creek Vineyards & Winery or through PayPal to chiaracreationsart@gmail.com.
May be SOLD OUT – if so, Lauren is starting a list for her next class!