Hatfield Creek Vineyards in the Ramona Valley AVA, California, was established in 2006. Our winery was bonded and licensed in 2012. There are just over 3 acres planted in Petite Sirah and Zinfandel grapes. We offer you MEDAL WINNING wines!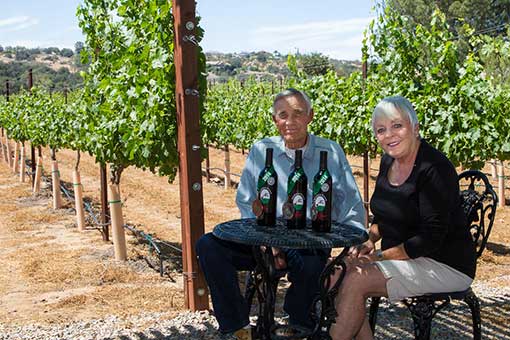 A Message from Our Winemaker
11/9/2020
Dear Friends,
WE ARE OPEN!!  PLEASE COME AND ENJOY OUR WINE OUTDOORS!
We are open for outdoor service only. Please see Covid-19 protocols below (wear a mask until seated, maintain 6′ distancing from those outside your bubble, etc.). Please be patient with our servers who will be dealing with longer walks to serve you, cleaning tables between guests, cleaning pens, credit cards, menus, etc. Bring a picnic to enjoy in the Courtyard or Dining Pavilion, come walk the Mediation Labyrinth and vineyard.
Sincerely,
Elaine, Norm, Eddie, Kitty, Kenny (Lily), Tammy, Debbie, Gail (Jazzy), Tony, Susan
Call Elaine at 760-787-1102 if you have questions.
COVID-19 Safety Plan:
We have already been following recommended protocols:
– Wearing a face mask when within 6′ of guests
– Wiping down counter tops and door handles hourly
 (Bathroom & Tasting Room)
– Wiping pens and credit cards after each transaction
– Keeping hand sanitizer on the bar for guests to use
– Keeping doors wide open when weather permits, and encouraging visitors to walk the vineyard
When our tasting room is open for tastings we add:
– Staff training on the new guidelines
– Encourage guests to wear masks until seated
– Encourage tastings outside at the courtyard tables
 (also cleaned and disinfected)
– Require 6′ distancing at the bar and inside tables
(by couple or family group)
Our procedures are already posted per County requirements at the door and are inside for inspection
And since we never have a crowd (unless it rains), 
no reservations will be necessary.
Hatfield Happenings
Upcoming Events at the Winery
What Our Visitors are Saying

"Beautiful location, friendly people."
"The wine was delicious. Would definitely come again with friends. The owners, Norm and Elaine, are wonderful and willing to share their stories as wine makers."
Linda S.


"Great family owned winery"
"Rich with history and great wine! The staff is so friendly and the tasting room is nicely air conditioned! Perfect for a hot summer day! I'll definitely be back to try the Rainmaker Rose!"
Macy S.


"The wine is impressive."
"We visited this place on our way to Julian. I would totally recommend doing the tastings here. It's a nice relaxing vibe and they have a nice breeze going thru to just give a tranquil environment. If you're gonna go to Julian. You might as well have a glass or two to enjoy the trip."
Ronnie S.


"This is wonderful, beautiful and friendly Ramona winery that should not be missed. The wine is delicious, the staff awesome and the tasting room and winery gorgeous!"
Pierce F.

Don't be shy. Let us know if you have any questions!