Hatfield Creek Vineyards in the Ramona Valley AVA, California, was established in 2006. Our winery was bonded and licensed in 2012. There are just over 3 acres planted in Petite Sirah and Zinfandel grapes. We offer you MEDAL WINNING wines!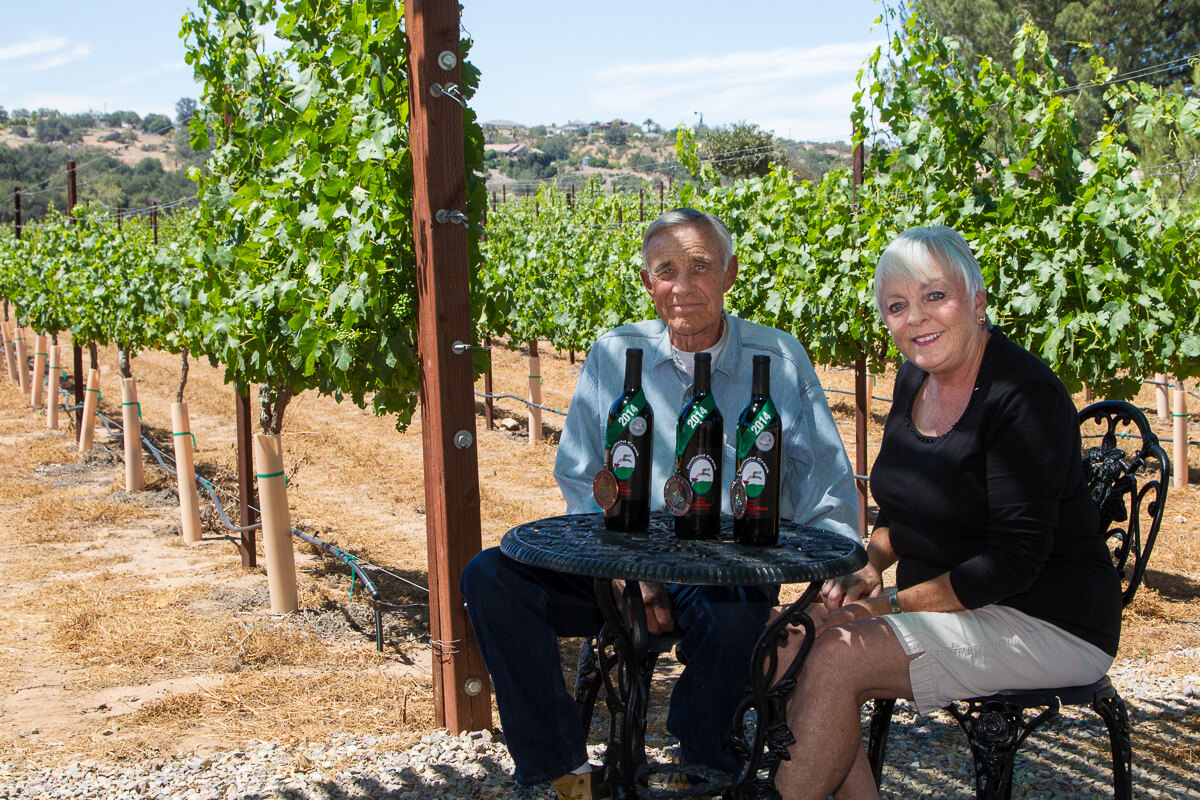 A Message from Our Winemaker
5/29/2020
Dear Members, Guests & Friends,
An open letter to the friends, wine club members, and strangers who all came in to purchase bottles of wine this weekend.
Your support of our small business is appreciated more than you can know. Your cheerful greetings, gratitude that we were here to provide you with our essential product, and positive attitudes were overwhelming. We hope to see you next weekend too!
In light of the COVID-19 directive by the Governor of the State of California, our tasting room has temporarily closed, for the safety of you and our employees. The good news is that we will remain open during regular weekend hours, for the purchase of wines by the bottle and Club Member release pick-up.
The Covid-19 Closure of Tasting Rooms drags on, but our vineyard is open to you, 11 a.m. to 5 p.m. all days of the week, to meditate, walk the labyrinth – El Corazon de la Vina, explore the history, or just get some fresh air and exercise.
No purchase necessary. Your only obligation is to honor social distancing rules, respect our property & when the crisis is passed, come back to have a tasting!
To find the labyrinth walk past the bar in the Dining Pavilion (by the parking lot) and to the bottom of Row 10. If you like, stop by the tasting room first to pick up a copy of Guidelines for Walking the Labyrinth.
We are open 7 days a week, 11 a.m. to 5 p.m. for purchase of wines by the bottle and Club Member release pick-up.
Additionally non-club members will receive a coupon for two complimentary tastings when we do re-open the tasting bar!
BUT WAIT! THERE'S MORE!
Until the end of June 2020, we are suggesting you do a DIY (do it yourself) Wine Tasting! With the purchase of 3 of our DRY RED wines at a 15% discount, we will include a "flight tasting" sheet with instructions, and two of our logo wine glasses. Enjoy in the safety and comfort of your own home!
Wine Club Members will have their membership discount doubled during this period to 20% on the purchase of additional bottles. (Not combined with any other offer.)
Buy our wines at Ramona Family Naturals, Holiday Wine Cellar in Escondido and LaCosta Wine Company in Carlsbad!
You can also shop with us from your home. Our website is always open for business with all our wines listed there for purchase online. The site offers the same discounts as the tasting room, with the additional benefit of free shipping on half (6 bottles) & full (12 bottles) cases.
PLEASE order some meals to take out from our local restaurants, to enjoy with your Hatfield Creek Wines!
Call Elaine at 760-787-1102 or email Elaine@HatfieldCreekVineyards.com for further information.
Future Events: June 21st Third Thunday Thummer Thupper (Father's Day) TBD
Find Our Wines At THESE open locations:
In addition to our winery:
– Cueva Bar/Adams Av. SD – buy To Go
– Holiday Wine Cellar, Escondido – buy To Go
– Ramona Family Naturals/Ramona – buy To Go
Sincerely,
Elaine, Norm, Eddie, Kitty, Kenny (Lily), Tammy, Debbie, Gail (Jazzy), Tony, Elizabeth, Susan
Covid-19 Reopening Plans:
We have already been following recommended protocols:
– Wearing a face mask when within 6′ of guests
– Wiping down counter tops and door handles hourly
 (Bathroom & Tasting Room)
– Wiping pens and credit cards after each transaction
– Keeping hand sanitizer on the bar for guests to use
– Keeping doors wide open when weather permits, and encouraging visitors to walk the vineyard
When we can open our tasting room to tastings we will add:
– Staff training on the new guidelines
– Encourage guests to wear masks until seated
– Encourage tastings outside at the courtyard tables
 (also cleaned and disinfected)
– Require 6′ distancing at the bar and inside tables
(by couple or family group)
Our procedures are already posted per County requirements at the door and are inside for inspection
And since we never have a crowd (unless it rains), 
no reservations will be necessary.
Hatfield Happenings
Upcoming Events at the Winery
What Our Visitors are Saying

"Beautiful location, friendly people."
"The wine was delicious. Would definitely come again with friends. The owners, Norm and Elaine, are wonderful and willing to share their stories as wine makers."
Linda S.


"Great family owned winery"
"Rich with history and great wine! The staff is so friendly and the tasting room is nicely air conditioned! Perfect for a hot summer day! I'll definitely be back to try the Rainmaker Rose!"
Macy S.


"The wine is impressive."
"We visited this place on our way to Julian. I would totally recommend doing the tastings here. It's a nice relaxing vibe and they have a nice breeze going thru to just give a tranquil environment. If you're gonna go to Julian. You might as well have a glass or two to enjoy the trip."
Ronnie S.


"This is wonderful, beautiful and friendly Ramona winery that should not be missed. The wine is delicious, the staff awesome and the tasting room and winery gorgeous!"
Pierce F.

Don't be shy. Let us know if you have any questions!