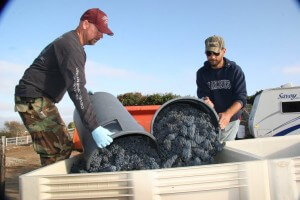 The 2011 harvest is over, with mixed results. We had a 28% increase in the Petite Syrah crop over last year, but only a 6% increase in the Zinfandel. We can only surmise that since the Zin vines are a year or so younger, that would be the cause of the slow increase in the rate of production. The grapes were spectacular though & will show up in some more award winning wines, we are sure.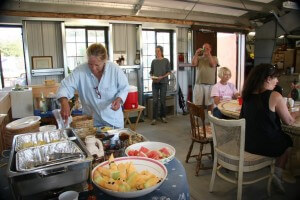 Many hands make light work, but we have to be sure to feed the volunteers well, and have mimosas on hand when the work is finished. The menu included quiche, scrambled farm fresh local eggs, ham & sausage. There were fresh figs and watermelon from local gardens, and home baked fruit breads and muffins.
One of the big hits was Baked French Toast. Here is the recipe FYI.
1 (1 pound) loaf of French bread, cut in 1/2″ slices – I usually have bits left over in the freezer I can use up
8 eggs
2 cups milk
1 1/2 cups half-and-half cream
2 tsp vanilla
1/4 tsp ground cinnamon
3/4 cup unsalted butter
1 1/3 cups brown sugar (I use dark brown, but light would be okay)
3 Tbsp light corn syrup
1. Butter or spray a 9×13 inch baking dish. Arrange the slices of bread in the bottom – may take 2 layers to do get it all in. In a large bowl beat together eggs, milk, cream, vanilla & cinnamon. Pour over bread slices, cover & refrigerate over night.
2. The next morning, preheat oven to 350 degrees F. In a small saucepan, combine butter, brown sugar & corn syrup; heat until bubbling. Pour over bread & egg mixture.
3. Bake in preheated oven, uncovered for 40 minutes.
The cooled pan of French Toast can then be refrigerated or frozen. Thaw frozen French Toast the night before you plan to serve it & bake in a 325 degree oven for about 25 minutes to reheat and serve.