Christmas in the winery – er… house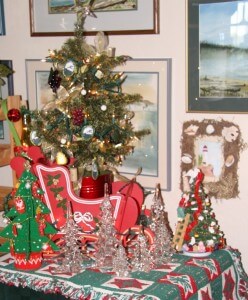 As I've mentioned before, things are a little crowded in here. An already small home has been made more cramped with the encroachment of the winery from the dining area to the livingroom. So this Christmas we are unable to find room for our modest 5′ artificial flocked tree. My solution has been to remove a chair from the living room, taking it to the airplane hangar for storage, and creating a table top display of a forest of small Christmas trees.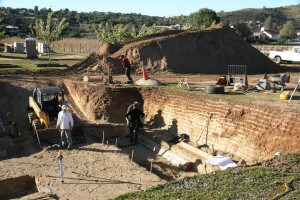 Meanwhile at the contruction site outside progress is being made. An army of workers was here today, building the forms in the bottom of the big hole for the footings and foundation. Maybe next year we'll have room for the bigger tree!
Cheers, Elaine