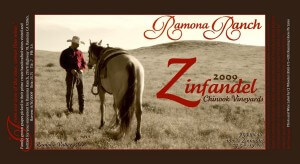 Every summer for the past three years, the Ramona Valley Vineyard Association has held a summer social for its members. We gather at Hellanback Ranch (yes, it's way out in the back country at the very end of a long road), where owners John York & Paula Payne treat us to their home raised beef burgers with all the trimmings. The rest of us bring wine and potluck dishes to share. The picnic area is under massive old oaks shading us from yesterdays 101 degree heat.
A traditional part of the days festivities includes a wine competition. This is informal, but done in a professional manner – a double blind tasting of the wines from our member wine makers. There were 11 entries this day. A double blind tasting is where the bottles are bagged to hide the labels, the judges don't know what kind of wine they are tasting nor who made them. The wines for this competition were all reds. The judges included local judge and wine guru Lum Eisennman, Past President of the San Diego Amateur Wine Makers Association Joey Hollacher, and Beth Edwards, one half of the local wine making team from award-winning winery Edwards Vineyards & Winery. There were 2 other judges, but after all the fun and wine, I don't recall who they were.
This year, Mike Moore & Teri Kerns of Ramona Ranch Winery entered their 2009 Zinfandel, made from OUR Chinook Vineyards Zinfandel grapes. They won the coveted Hellanback Ranch Horseshoe BLUE Award (1st place)! Though it's a silly little contest, we still feel very proud to have provided award winning grapes!
Cheers!
Elaine