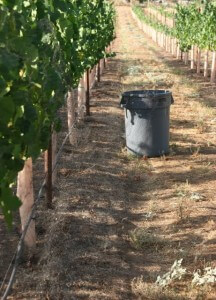 Even though we are having a wonderful life creating a beautiful place for friends and family to visit while striving to grow premium wine grapes, it is not always a walk in the park. Something or someone is always lurking to throw up a road block or detour when or where they can.
Mother Nature is a major one. The unusually wet winter, cool Spring and lingering morning fog even now in the Summer, has set us up for powdery mildew in the vineyard. The good news is, we have a big spray unit Norm pulls behind the ATV and he has been spraying Sulphur to control it.
Even though this is not part of the vineyard, our one and only BIG tree that shades the house, a eucalyptus, is now terminally ill. The Eucalyptus Redgum Lerp Psyllid which is attacking these kinds of trees all over the county has taken it over. The good news is, this tree is very messy, and when the buildings we plan are completed, it would be in the courtyard, dropping leaves and bark constantly. Now when the tree dies, we can remove it and replace it with another big shade tree of a more desirable variety.
The birds will be our next threat, as soon as the grapes go through veraison (turning from green to purple) thereby sugaring up and becoming "bird candy". The good news is, we have bird netting all ready in Brute trash barrels at the end of each row, all measured to the correct length for that row and ready to go!
Bring it on.
Elaine