For my dear Blog Followers, my apologies for my absence. As soon as we racked the wine and started the secondary fermentation, we left town for our postponed and much needed vacation/business road trip. Over 3,500 miles of fun, and wine! We travelled in and out of rainy conditions, but the Fall colors were amazing. We don't know why anyone would bother trekking all the way to the east coast of North America when northern California, Oregon and Washington put on such a vibrant autumn color display!
Our first stop was in the Livermore wine valley to tour and taste at Cedar Mountain Winery. They make only 3,000 cases annually under their own label, but produce 17,000 cases a year for others. They craft a delightful, crisp Pinot Gris, which we may have made for us by them, since we can't grow and make that here.
We continued on to Cottage Grove, Oregon where we toured the Pacific Yurt Company. We had wanted to see their model displays, particularly the 12 foot and 14 foot models because we think one of them will be the size we want for our guest facilities at Camp Chinook.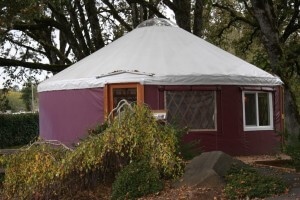 Unfortunately they didn't have those two smaller models on display, but we got an up close and personal tour of the others: construction details, colors, and other features so it was a good stop anyway. There is a 14 foot model at one of their customers in Wrightwood, California so we'll travel over there in the next month or so to see it. http://www.yurts.com/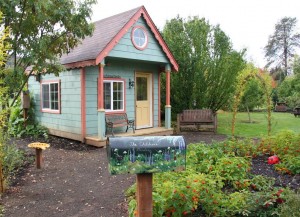 We stayed at the most amazing "motel" in Cottage Grove. The Village Green Resort, right off the I-5, is beautifully decorated and sits on 14 acres of the most amazing gardens I've seen outside of England. At every turn along the meandering pathways through the gardens, an astonishing and beautiful new view was revealed. They have a Bird Habitat garden, a Golden garden, a Woodland garden, a Children's garden (pictured), and many more. They even have a meditation labyrinth!
We came away a couple of ideas we can implement here, though our gardens will likely never come close to the beauty of theirs. The rack rate was just $69 which included a full breakfast. They have nice restaurant on site, at which we enjoyed a very nice dinner. This resort is part of the Moonstone Hotel Properties that have seven properties in Oregon and California. Apparently one of the partners is a Master Gardener, making fabulous gardens a signature of their resorts. http://www.moonstonehotels.com/
As we headed north, we stopped at several Oregon wineries, finding only two open when we got there however. King Estate Winery is huge, and a very unexpected sight, way out in the middle of nowhere on top of a big hill. We also stopped and tasted at LaVelle Vineyards, a small boutique winery. They also have a meditation labyrinth! Here we thought we had a novel idea by installing one here – apparently not. We visited one other winery in Oregon, getting off the freeway to drive through charming Ashland. The young lady serving in the wine tasting room where we stopped, had no personality what-so-ever, and had no business being there. No smile, no patter about the wines being tasted, and even garrulous old Norm could not get a conversation out of her!
We made our way to Vancouver Island, B.C. via a stop in Vancouver Washington, and Aldergrove B.C. To be continued…