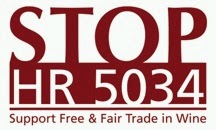 The Anti-Consumer Wine Bill. Our own Congressman Bob Filner (D0 of the 51st Congressional District is even a co-sponsor of this Bill aimed to derail and cause severe harm to small wineries in California, and just when we were getting on the track to success here in San Diego County too.
Put down your wine glass, pick up your pen or your laptop, and please take a moment to write a letter to your representative in Congress, with a copy to Mr. Filner, advising them not to foolishly and unnecessarily harm small business and to vote NO. Mr. Filner should be encouraged to remove himself as a sponsor. His local address is: 333 F Street, Suite A, Chula Vista CA 91910. You may also find a link to his email and your own Congressman's email at https://www.house.gov/representatives/find-your-representative.
The issue cannot be any better outlined, with the ramifications spelled out more clearly than that reported on Wark's Fermentation – The Daily Wine Blog. He says:
House Resolution 5034 is by far the most audacious attempt ever by America's beer, wine and spirit wholesalers to takeover complete and total control of the country's alcohol beverage market and, in the process, create circumstances in all fifty states that assure consumers only have access to the slim number of wines to which wholesalers decide consumers ought to have access. But perhaps most sinister is the fact that if H.R. 5034 passes, it will put out of business an entire swath of America's artisan wineries.
Wark goes on the explain how this will happen. Please go to for his entire report. He also warns about what will happen immediately after passage of H.R. 5034. He says:
The states of Michigan, Texas, Illinois, Massachusetts and likely Maryland will see laws introduced that prohibit the shipment of wine into those states by out-of-state wineries and retailers. These states are those most completely controlled, from the legislature to the regulators, by wholesalers who don't want direct shipping. And you can bet that once these states successfully shut out the sale and shipment of wine by out-of-staters, wholesalers in other states will follow suit with their own discriminatory bills.
This kind of bill is unlikely to find much significant opposition or support from the citizens of the United States. It's not a sexy bill that affects the majority of Americans. H.R. 5034 is the kind of bill that gets pushed and opposed by insiders and lobbyists without much attention from citizens and the media. Anyone in the wine industry, be they retailers or wineries, who believes that they can sit back and just let the process protect their interests without getting involved is sorely mistaken. Any consumer who relies on direct shipment of wine for their wine club wines or to purchase the huge number of wines they can't find locally and who thinks this bill won't pass simply because it's so retrograde is sorely mistaken.
What's needed to stop this bill are a variety of steps.
1. There needs to be a joint and concerted effort by the likes of Family Winemakers of California, Free The Grapes, The Specialty Wine Retailers Association, The California Wine Institute and every other regional winery organization in America to oppose this bill. There should be a single organizing committee representing these organizations that works to lobby against the bill.
2. There must be a well coordinated effort to educate the media about the effects of this bill if it passes and to see story after story run that simply and precisely calls this bill exactly what it is: A WHOLESALER BAILOUT THAT IS BEING PURSUED BY SPECIAL INTERESTS THAT HAVE PURCHASED CONGRESSIONAL MEMBERS AND THAT, IF SUCCESSFUL, WILL SPELL FAILURE AND BANKRUPTCY FOR NUMEROUS WINERIES ACROSS THE COUNTRY AS WELL AS COMPLETELY STOP CONSUMERS IN NUMEROUS STATES FROM HAVING ACCESS TO THE WINES THEY WANT.
3. There must be the creation of a national wine consumer organization/union that will organize consumer opposition to this bill and create the foundation for the consumer involvement in the process of alcohol regulation across the country.
The only way many wineries can survive or thrive inside today's ineffective alcohol distribution system is through direct shipment of wine to consumers. The only way consumers can access most of the wines that have resulted from the explosion of artisan wineries across the country is via direct shipment of wine. If H.R. 5034 passes, it will mean the end of the direct shipment of wine in numerous states.
Sincerely,
Elaine